Ah … summer. The outside is abuzz with insects gliding merrily through the air. Bees, wasps and hornets are on the prowl for a comfortable place to nest. With those delicious smells emanating from your grill and wafting through the air, these stinging insects just might select your property.
IT'S ALL FUN AND GAMES UNTIL SOMEONE GETS STUNG
These stinging insects are notorious for smelling good times and putting quite a damper on many occasions as their stings can be painful and cause allergic reactions. Anaphylaxis in some cases. The smell of meats, sugary drinks and outdoor gardens can be a big attraction for these insects. Stop stinging insects from crashing your party.
NATURAL WAYS TO DETER BEES
The smell of garlic repels bees. Sprinkle some garlic powder around areas of your yard from which you wish to deter them. Burning citronella candles may encourage bees to relocate. Another option is peppermint essential oil added to distilled water and sprayed in areas you would like to rid of bees.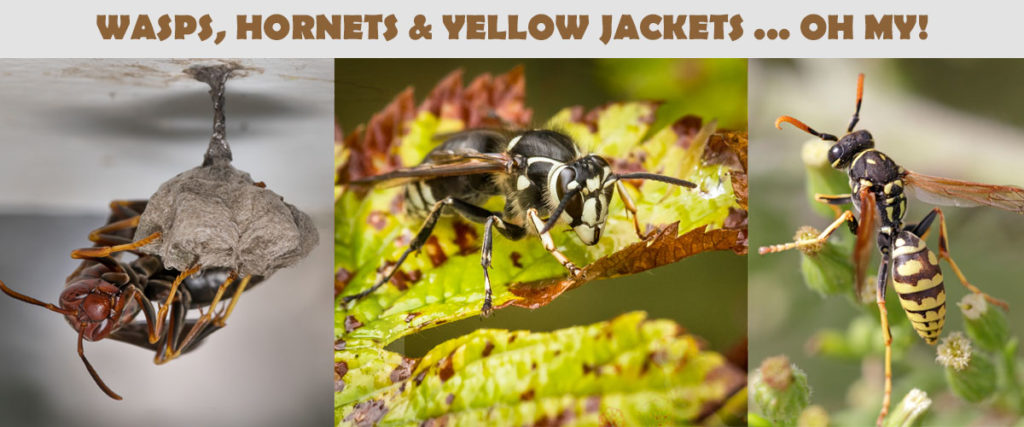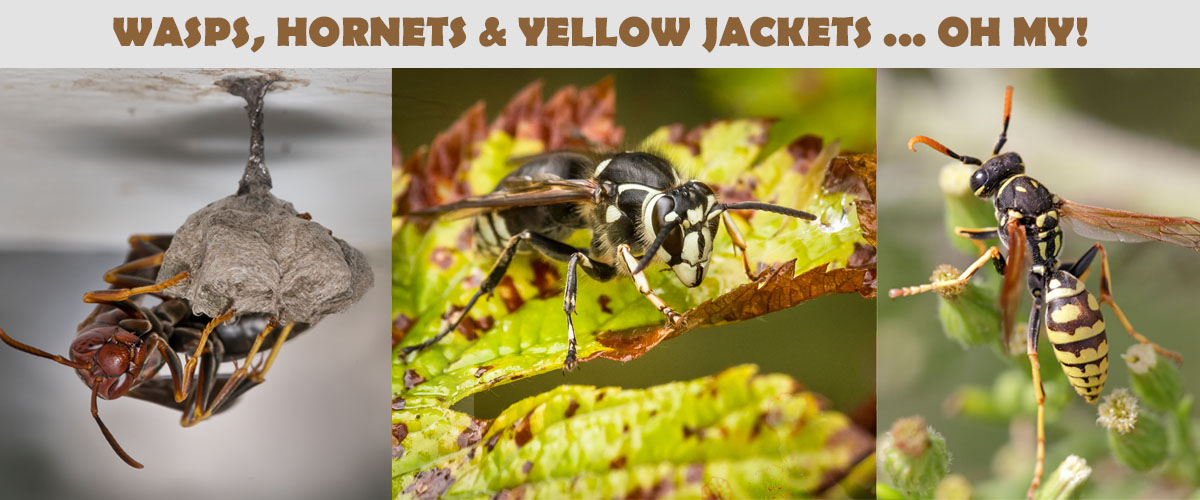 WASP NEST CLOSE TO FOOD SOURCES
Wasps build nests in the eaves of your roof, decking, garages and attics. They are cunning creatures and find ways into your home to nest, as well. Like any pest, the main draw for them to your home is a search for food. Keeping the house tidy inside and out could help prevent them from nesting.
HOW TO DEAL WITH NESTING WASPS
Wasps tend to rebuild where they were in previous years, so treat those spots before they build nests close to your patio or porch. A natural solution is to mix several drops of each; Clove, Geranium and Lemongrass Oil, with water and dish soap in a spray bottle. Spray the mixture to coat areas outside the home where they typically build nests – eaves, porch roofs, ledges and crevices.
Another possibility, after they begin to nest, is to mix 2 tablespoons of dish soap with water in a spray bottle and spray small hanging nests. The soap clogs their breathing pores and they die almost immediately.
BEWARE OF THE REST OF THE WASP FAMILY
Yellow jackets and hornets are from the wasp family too. While yellow jackets resemble wasps more because both have narrow wastes, smooth skin and four wings, hornets have thicker wastes and are larger.
Yellow jackets are the most aggressive. They will track a target and sting several times. Hornet's nest is large enclosed conical shaped that hang from a sturdy perch in a tree or eave, whereas yellow jackets nest below ground.
BEES ARE BY FAR THE BETTER POLLINATORS
Bees and wasps have many beneficial qualities, such as feeding off of other insects. Wasps nourish their larvae with insects, while bees feed theirs pollen. Hence, some farmers use wasps to protect crops. Both wasps and bees pollinate plants, but bees are super-pollinators.
BEES ARE THE LEAST AGGRESSIVE STINGING INSECT
Bees tend to be the most placid of the stinging insect variety. Left alone, they go about their very important business of pollinating the world. Bees typically colonize in a hollow tree. However, they can also establish a hive in the cavity of a building, such as an attic or hollow walls. When this happens, call a professional. Honeybees are a protected species and should be relocated, rather than annihilated when they present an issue.
BEES ARE ENDANGERED
Bees are dying off at an alarming rate. This is primarily due to loss of their habitat to farming, pesticides climate change and urbanization.
The American bumblebee population has dropped by 89% and has completely disappeared in eight states. It is now on the endangered species list. That is why beekeepers are being employed to move their nests from soffits, roofs and inner walls. Sometimes the beekeeper will keep the bees as the only form of payment!
HIRE A PEST CONTROL SPECIALIST TO HANDLE STINGING INSECT PROBLEMS
Attempt to treat for wasps or other stinging pests on your own can be risky. You can end up stung. The Bug Stops Here Pest Control specialists know how to best deal with stinging insects and where to find the nests. Our specialists will get rid of the wasp, hornet or yellow jacket nest while taking your family and pets safety into account.
We treat for wasps, hornets or yellow jackets at the right time of day. The Bug Stops Here specialist will use the commercial grade treatment options to thoroughly remove the nest for good.
Does your home have a problem with yellow jackets, wasps or hornets? Schedule a free inspection with our pest control specialist by calling 1-631-563-3900 or contacting us online.
---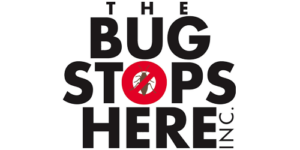 The Bug Stops Here is a full service pest control and exterminator company serving Bohemia and Nassau County, New York and businesses located in Long Island, New York serving all of New York City; Brooklyn, Queens, Manhattan and surrounding area.  For twenty years, our team at Pest Control team has been comprised of professional exterminators who provide high quality pest control services for both commercial and residential properties throughout New York. Our team of extermination professionals can get rid of a variety of pests, ranging from cockroaches, termites, ticks & fleas, bees, wasps,hornets, rodents, ants to bed bugs. Our goal is to provide you with the best pest control services that exceed both your standards and those of the industry as a whole.
TheBugsStopHere.com | 631-563-3900 | info@TheBugsStopHere.com