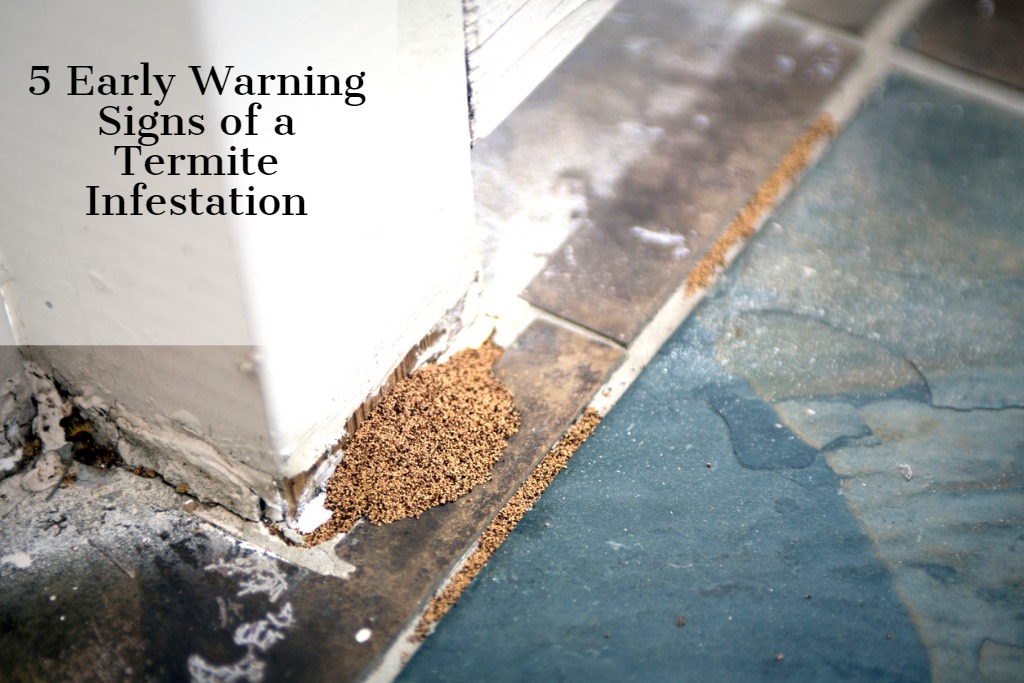 Termites begin to swarm in the spring near sunny areas that tend to warm up first. Although termites are not harmful to humans, their colonies can do massive damage to a home's structure. That is why it is highly recommended to have a termite inspection sometime in March or early April. Then to follow up with termite treatment and termite control measures to prevent a further termite infestation.
Even when caught early, termites can be hard to eradicate. Taking proactive steps to control a termite infestation can prevent thousands of dollars of property damage. Learn the signs and take care of your termite problem immediately.
5 Early Warning Signs of a Termite Infestation: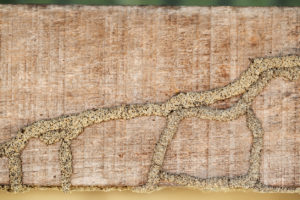 1) Termite Mud Tubes:
Termite mud tubes are small tubular tunnels the termites build to protect themselves as they travel from the colony to a food source. They are located near their nests, mostly in shaded areas often around foundational cracks. Simply destroying the termite tubes will not solve the problem.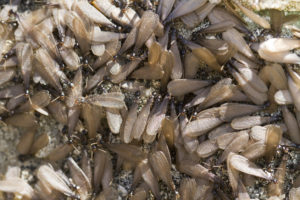 2) Winged Termite Swarms:
Winged termite swarms, also known as alates, are a good indication that there is a mature colony somewhere nearby. In the springtime, many original termite colonies have reached their capacity and therefore need to expand. Hundreds of thousands of winged termite swarmers are produced with the sole purpose of expansion and reproduction.
3) A Collection of Discarded Wings:
The survival rate of swarming termites is low. Because they are not strong flyers and after a short flight they break their wings. A pile of wings near a light or window inside a structure could point to an active termite infestation.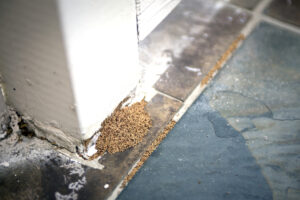 4) Termite Droppings:
Termite droppings look like sawdust or coffee grounds and is often one of the easiest ways to discover an infestation. As termites tunnel, they keep the area clean by removing their excrement. Dry wood termites excrement is small bun-shaped and often accumulates on services right below infested areas.
5) Termite Bodies:
While winged termites are often the first sign of a termite infestation, another sure sign of a termite infestation is discovering bodies of termites inside your home.
Termite Treatment and Termite Control Measures:
Termites are responsible for billions of dollars of damage to home in the US. Fortunately, there are ways to treat and prevent termite infestations.
Poisoned bait is often used on termite infestations, but this method may take several months before an entire colony is controlled or eliminated.
Since termites live in soil, a soil treatment is effective. A trench dug around the foundation of your home. The trench is treated with termiticide and the soil refilled. This works as a barrier to prevent any new colonies from entering. It also kills any termites in the house as they return to their nest.
Finally, wood treatments, such as surface sprays, injected foam and sprays or Borate treated wood will help kill existing termite colonies and prevent future infestations.
If you suspect a termite infestation, contact the professionals at The Bugs Stop Here for a thorough inspection and free estimate. We will share a detailed plan of what it would take to totally eradicate any existing termite infestations or preventative measures to keep your home termite free.
That is why it is highly suggested that you call a professional pest management company to eliminate termites. Exterminators have the technical knowledge to combat an infestation. They have access to the most effective insecticides and special cleaning devices that prevent a further termite infestateions to other locations.
SOME HELPFUL ARTICLES:
---
---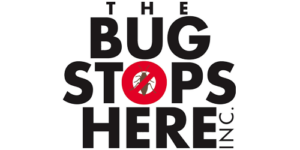 The Bug Stops Here is a full service pest control and exterminator company located in Long Island, New York serving all of New York City; Brooklyn, Queens, Manhattan and surrounding area.  For twenty years, our team at Pest Control team has been comprised of professional exterminators who provide high quality pest control services for both commercial and residential properties throughout New York. Our team of extermination professionals can get rid of a variety of pests, ranging from termites, mosquitoes, ticks & fleas,  wasps,hornets, rodents, ants to bed bugs. Our goal is to provide you with the best pest control services that exceed both your standards and those of the industry as a whole.
---
---